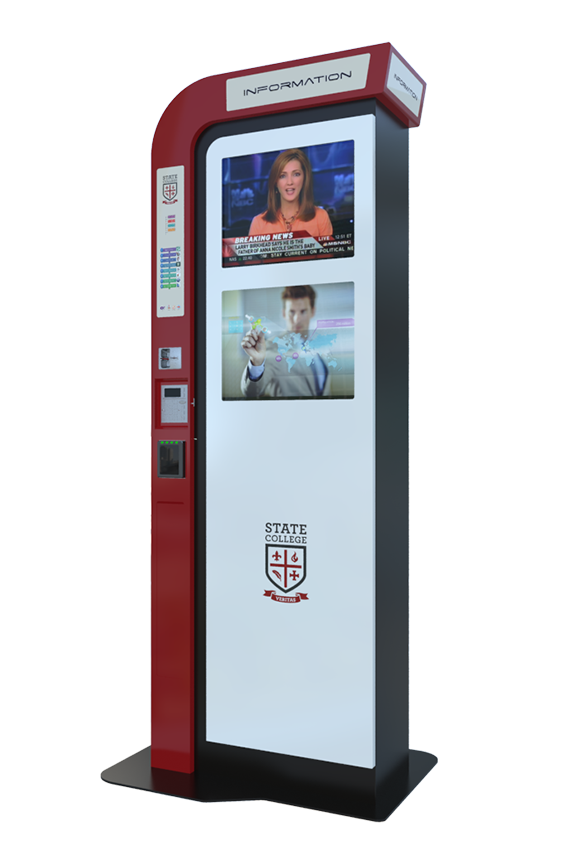 The Galaxy 19 has a lot of surfaces for graphic, making it idea for situations where there is need for branding. This kiosk is extremely versatile and can fit everything you can throw at it. Some of its features include a 19" lower screen, 19" upper screen or light box; it is well-suited for EMV payment devices, and front service access. As with all our kiosks, this unit is provided with powder coat finishes for good looks and maximum durability.
We have seen this bold and attractive kiosk used in trade shows, point of sale applications, bill payment applications and in event ticketing applications.
Industrial PC Intel Celeron, i3 or i7 processors
Touch Screen
Amplified Speakers
Credit Card Reader/Smartcard Reader/RFDI reader
Chip and Pin EMV Payment Device
Industrial Kiosk Keyboard with Trackball with an external front shelf
Fingerprint Scanner
Driver License Scanner
Wi-Fi or Cellular Connectivity
Barcode Scanner & Imager
Hi-definition Web Camera
Privacy Filter
Passport Scanner / ID Authentication Scanner
Media Reader
Receipt Printer
Ticket Printer
Laser Printer
Bill Acceptor
Bill Dispenser
Coin Acceptor
Coin Dispenser
Card Dispenser
Check Scanner
Headphone Input Jack
Pin Pad with an external front shelf
Signature Pad with an external front shelf
Microphone/Phone System
Alarm System
Proximity Detector
UPS backup power
Components are but not limited to list above. Contact us for additional Requirement
This kiosk comes in standard colors with extremely durable, attractive and eco-friendly powder coat finishes.