Washington Mall in Bermuda called on Livewire Digital to provide up-to-date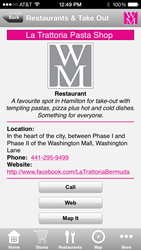 information to shoppers and diners. "We have to speak to our visitors in their language — in this case that language is technology. Of course we still have signage on property. We still deliver offers using traditional media. But now we also communicate using computers and smart phones to improve their shopping experience," says Paul Slaughter, General Manager of Washington Properties (Bermuda) Limited. The mobile app, the latest iteration of technology Livewire provided in Bermuda, dovetails with the brand new website released in January, and became available in the Apple iStore and Google Play store in February.  The mobile app and website allow tourists to plan their visit ahead of time and provide a handy resource to island residents and workers in the various service industries. With over 600,000 visitors annually to the island, technologically appropriate wayfinding solutions are in demand.
The new interactive formats work hand in hand with Livewire's original kiosk and wall-mounted interactive digital signs, which were installed for the client in 2010 and 2012. Together, these omni-channel communication tools mean that:
    wayfinding is facilitated for travelers planning to visit the island
    tourists already in Bermuda can find stores, restaurants, and special events
    staff is freed up to provide other guest services
    management can keep information updated
    up-to-the-minute content is quickly and easily added
    marketing messages can be customized and synchronized in each format
    weather and safety alerts can be communicated instantly
    customer service workers anywhere on the island can direct inquirers to the new app
    technology interfaces are safeguarded against improper use
    user stats are collected to customize future marketing
    tenants of the mall can access the information they need automatically
The mobile app and website, which is still accepting updates from the 49 shops and restaurants, are powered by Livewire Digital's eConcierge® Content Management System. David McCracken, CEO at Livewire Digital, says, "This type of omni-channel customer engagement is critical for the success of any retail or tourism-oriented businesses in the future. The four interlaced content management solutions—mobile apps, website, interactive kiosk and digital signage—work together to make it easy for visitors to find what they're looking for. At the same time, they give the client a single platform for tailoring service and marketing to customers—all from one central database. Equally helpful, they enable instant dissemination of hurricane and other critical alerts."
See the full press release on PRWeb.
Download the mobile app from Google Play or Apple iStore