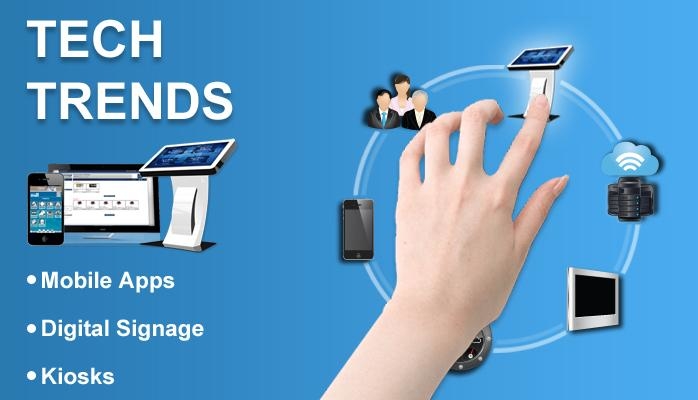 Earlier this month, I wrote about three tech trends we'll see in 2015. Here's the second part of that series, including three more trends that are going to take the retail world by storm next year.
1. Big Data Analytics 
Businesses love digging through data to inform their decisions regarding products to offer and prices to charge, but analytics are going to become increasingly more important when it comes to digital signs in 2015.
We're already seeing this in simple ways, such as weather data that determines products offered through digital signs — like a winter boot sale when it's snowing. But smaller data points are going to become key players in making decisions, too. In the retail and hospitality industries, businesses will use analytics to see who is viewing their digital signs, how long they looked at them, and the effects that the signs had on their customers. They'll take that data and refine their plans going forward, to provide more compelling digital signage that encourages specific customer behaviors.
2. Omni-Channel Networks
Omni-channel networks, transmedia experience, mobile connection — call it what you will, but the bottom line is that a consumer is looking for a seamless and interactive experience as they move from one device to another. A few companies are doing this well already (think Disney MagicBands,) but the rest of the retail world will start to follow suit in the coming year.
We will see businesses blur the lines between different departments to ensure the messaging, feel, and custom experience is maintained from one device — and one step in the purchase process — to another. Omni-channel networks are still in their infancy, and I predict a major growth spurt in 2015.
3. Mobile Integration
It's no secret that consumers rely on their smartphones for just about everything these days. Retailers will start incorporating mobile technology into their digital sign software, making the process completely self-service.
Mobile phones will be used to scan QR codes on digital signs, switch video wall displays, enter contests, complete purchases, instantly request more information, and more. Pretty much any way retail stores can blend the lines from one digital medium to another, will be seen in the coming year.
What other trends do you predict for 2015? Do you disagree with any of my predictions?