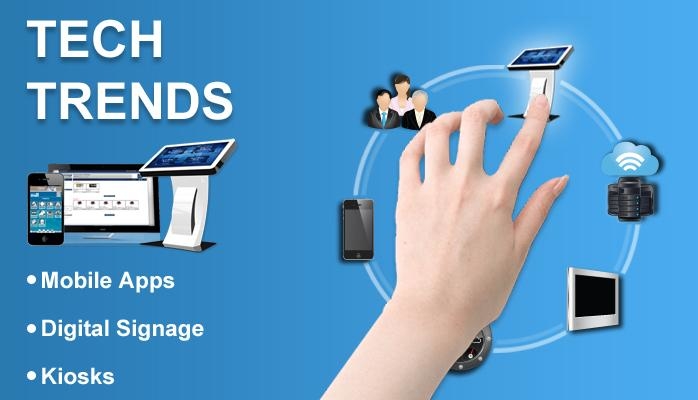 Ahhh, the New Year. The days of family gatherings and corny-but-loveable holiday specials are now behind us, and it's now time to make resolutions and predictions for the new year. Technology grew by leaps and bounds in 2014, and I think we'll see an even larger evolution in 2015. Here are three of my top customer engagement technology predictions for the new year:
1.  Interactive Way-Finding
Way-finding digital signs are going to continue to be huge in the new year, but with a twist: more and more interactive touch screens. Thanks to the prevalence of smartphones and interactive kiosks, when it comes to screens, interactivity is almost a given nowadays. (Be honest…you've tapped a non-interactive digital screen thinking you could play with it, haven't you?)
Way-finding digital directories and video walls will evolve to include this interactive touch screen feature. We'll see both spectacularly large digital signs and mosaic-like video walls incorporate this way-finding touch screen technology.
2.  Near-Field Communication (NFC)
In 2015, we're going to see NFC technology completely change the retail landscape. NFC technology allows digital signs and mobile devices to instantly transfer data —effectively talking to one another — to create an interactive, comprehensive experience for the user.
One application of this technology is similar to Pizza Hut's touchscreen table including food options that change based on a guest's preferences. Thanks to the fact that NFC technology is also extremely secure, the sky's really the limit when it comes to this trend.
3. Augmented Reality
Businesses started playing with interactive augmented reality (AR) in 2014, but 2015 is when it will really start to come into its own. There are so many possibilities here that it's hard to imagine them all.
Lego is a fantastic example of how the retail space can use this technology to drive customer engagement. Customers can hold a Lego box in front of an AR screen to see what the model will look like when it's completely assembled. Customers can rotate the box to rotate the image on the screen to up the interactive factor. Pepsi, IKEA, and Volkswagen add to the group pioneering AR applications, and we're only going to see that group grow in 2015.
Have you seen any of these trends already taking hold? Which do you think will be the biggest trend of 2015?