Meet the Client
MGM Grand at Foxwoods is the latest addition to the Foxwoods Resort Casino property located in Mashantucket, CT. Opening in May of 2008, the hotel offers the utmost in luxurious accommodations with 825 lavishly appointed rooms and suites.
The Challenge
With the opening of the new hotel property at Foxwoods, MGM Grand's goal was to provide their patrons with a very high level of comfort and convenience. To help alleviate long wait times during the check-in and check-out process, the property decided to provide the ability for guests to perform these functions from a self-service terminal.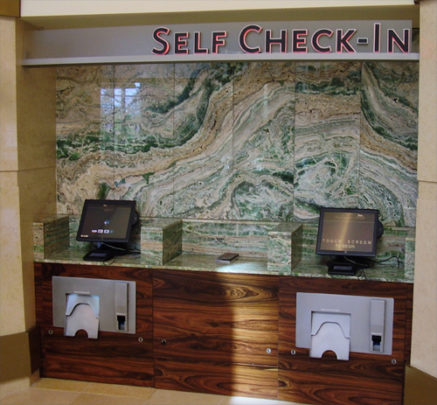 Efficient Use of Staff
Decrease Wait Time for Customers
Room Upgrade
The Solution
Livewire was engaged to develop a kiosk software solution to interface with the hotel's Property Management System (PMS) and allow guests to perform three different functions from a self-service interface: (1) check-in to the hotel, (2) check-out of the hotel, and (3) after pre-registering, check to see if the assigned room was ready.
Registered guests may swipe either a credit card or their Dream Card to display a list of reservations that they had made for the hotel. Options are provided at check-in to upgrade room type, change smoking preference, configure an email address, and register additional names in each room. Upon successful registration, guest cards are printed for each registered name and the associated room keys are dispensed.
At check-out, guests are able to check themselves out individually or with others that have been registered as 'room shares'. Payment may be tendered using one or more credit cards as well as with accumulated Dream Card points. A final folio listing all hotel charges and payments may either be printed or sent via email to the guest.
The kiosk application is based on Livewire's eConcierge kiosk softare platform. The implementation uses background calls to a middleware web service proxy that Livewire created to provide the connection to Foxwoods' PMS backend. The solution is currently deployed on 2 terminals built into custom cabinetry near the hotel's front desk. Livewire's hardware partner, 5point, provided an equipment chassis to mount each system's computer, printer, and card dispenser. The entire assembly rolls out of the cabinet for easy access by hotel employees to refill card and paper stock.