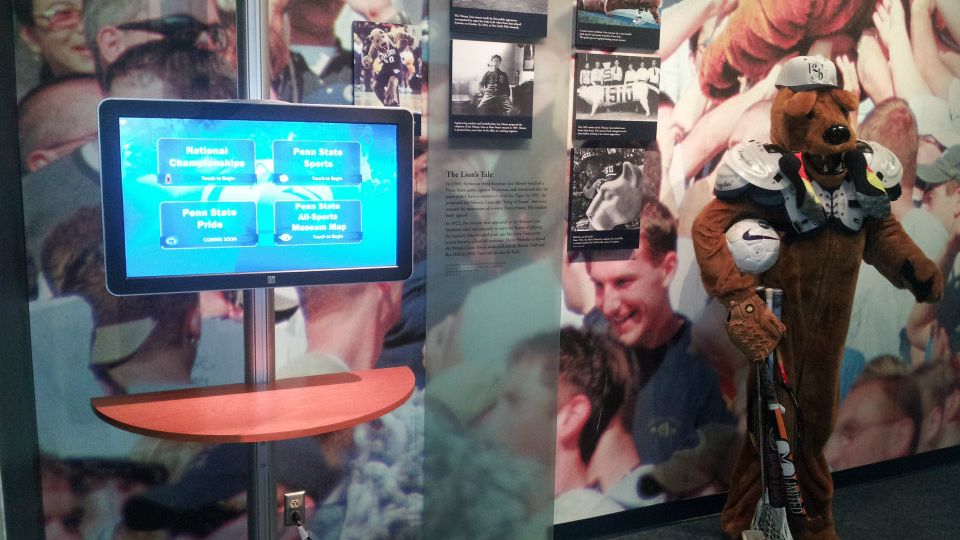 Sometimes a client deadline seems unreasonable and the budget isn't realistic. But if the project resonates with who you are, you'll go above and beyond to make sure the project is done right and finished on time. How can you accommodate the client and still deliver a top-quality product? Give it everything you have—and more.
For one particular project, we were working within a tight deadline—just six weeks from start to finish. I had my own reasons for wanting to do this right that went beyond Livewire Digital, so I put my heart into this one.
As a Penn State alum, I was glad to be contacted by Marketechs of York to provide the programming for kiosks to be placed in the Penn State All Sports Museum. It was the first week of March. The museum's 10th anniversary was coming up, and, as part of Blue-and-White Weekend, thousands of fans would get a preview of the coming season's Nittany Lions. Visitors would be invited to use the new kiosks that let them take a self-tour of the museum and look up their favorite players, games, and coaches. The problem? Blue-and-White Weekend was April 20-22, and the budget was not big enough.
To complicate matters, the challenge included migrating data that was spread out among a variety of databases and servers. We dedicated two full teams to the project, working around the clock. Programming and design progressed rapidly, aimed toward making sure that future updates of the data were easily integrated.
By April 20, when the museum opened on its anniversary, we had it ready. Visitors to the museum were able to search seven new interactive kiosks to learn more about Penn State's vast sports history. Season-by-season audio and video clips could be accessed through the user-friendly touch screen, and former athletes and coaches could be easily located.
By providing our eConcierge CMS with a Sports Management add-on, we were able to accommodate future data to be input by museum personnel as well. The 32" touchscreen-based kiosks located throughout the museum give visitors access to all sports. Kiosks in each particular area of the museum showed, by default, information to the sports memorabilia within that immediate vicinity of the kiosk.
For me, the Penn State job was personal, and we donated otherwise-billable hours to my alma mater to make sure the end product was stellar and completed before the big game weekend.
Both clients—Marketechs and Penn State—were more than satisfied. The new, searchable kiosks made information on all Penn State sports, including team records and year-by-year schedules, readily accessible to museum visitors. Picture and video galleries brought the players to life. All this by April 20, which garnered loyalty to us from both clients.
Having trouble deciding whether to tackle a difficult project to which you have a personal connection? Go the extra mile. Client loyalty can be earned by your own loyalty. To ramp up your own client loyalty, consider contacting Livewire Digital to see how we can help you deliver a top-quality product on time and on budget.
P.S.  Interested in seeing a quick video tour of the museum?  Click Here