Livewire's Customs Duty payment kiosks, operational in Bermuda's L.F. Wade International Airport since 2007, have undergone a complete hardware and software retrofit.
February 24, 2021 – YORK, PA – Livewire Digital's next generation of duty payment airport kiosks in Bermuda's L.F. Wade International Airport provide a fast and efficient way to pay duty taxes.   Bermuda Customs' original self-service kiosks were developed and installed by Livewire in 2007.  While the kiosk enclosures remained unchanged throughout the past fourteen years, upgrades were implemented to improve security and performance of the payment processing system.   As hardware and software technology has changed significantly during the past decade, all agreed it was time to do a complete refresh using the latest components and Livewire's Engage IoT Software Platform.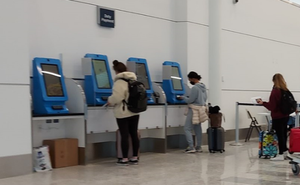 The duty payment kiosks allow travelers to electronically complete their duty tax forms speeding up the process and allowing customers to bypass lines at the Customs counter. Benefits of the kiosks include improvement of customer service, elimination of manual calculation of fees and increase of traveler throughput.
The new duty payment kiosks are powered by an application built on Livewire's most recent release of its Engage IoT software platform.  The system simplifies management of currency exchange rates, provides  real-time and historical transaction reporting, secure EMV payment processing and lockdown of the devices, and remote management and health monitoring of all hardware components.