For lawyers, vast changes in advertising mediums make it difficult for them to effectively promote their services. Livewire Digital, in partnership with Blue Zebra Kiosks, is giving attorneys a new, powerful alternative—dedicated kiosks that offer legal tips to consumers.
Placed in areas where pedestrians congregate, these interactive kiosks allow users to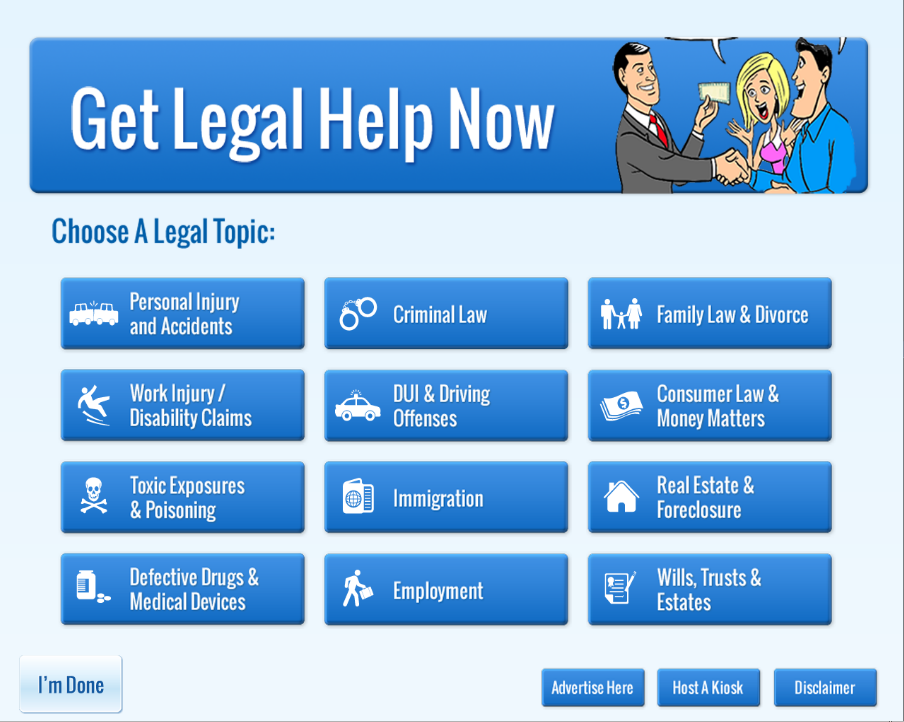 confidentially inquire about legal situations where they might need the help of an attorney. By selecting a category, such as workers comp, medical malpractice, or wills, individuals can receive legal advice on the screen and view a recommended lawyer's name for each area of specialty. The person can then choose how to receive the information.
"Our kiosks provide legal information and lawyer referrals to consumers," says David Entin of Blue Zebra Kiosks. "These kiosks are located in high foot−traffic locations, such as shopping malls and medical facilities. Consumers can easily find information on a specific legal topic and instantly get a printout, text, or email with useful legal tips and referrals for attorneys and related services."
Livewire Digital partnered with Blue Zebra Kiosks, providing multiple screens and graphics that attract consumers. The centerpiece of Livewire's contribution is its unique eConcierge® platform and content management system, which allows the kiosk client to monitor activity and safeguard and update the information seamlessly from a remote site. Livewire also provided the easy-to-use interface, functional design spec, screen flow and design layout, along with the requirements for the kiosk hardware and necessary interfaces.
Livewire Digital's CEO, David McCracken, says, "We know that information kiosks like Blue Zebra's are becoming more and more necessary, providing instant information for all types of businesses. In this case, not only do we provide an inviting, user-friendly interface for this innovative marketing tool, our software allows the client to continually customize sponsorships differently for each kiosk, as sponsorship agreements change and new locations are added."
Blue Zebra chose to introduce their kiosk in a select market where they felt these legal information kiosks could prove the value of their product. They continue to add more kiosks in the test market and plan to expand to other markets in the near future. The kiosks have a small footprint, are practically silent, use very little electricity, and do not share the host's Internet connection. Attorneys pay to advertise on the kiosks, and host locations receive a monthly fee. To learn more, check out this video.