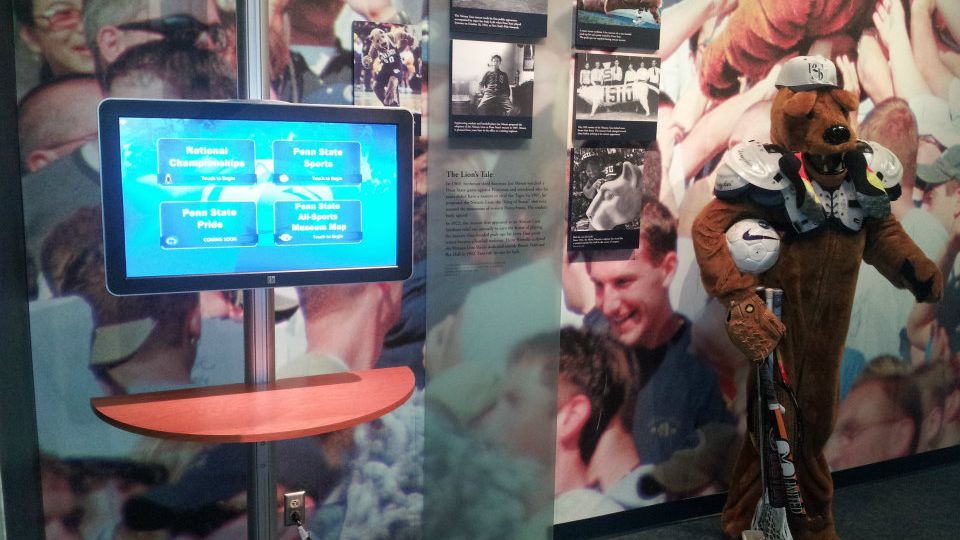 Turn on any high school or college sports movie and you'll see a natural rivalry between the jocks and the tech nerds (…who I refer to fondly, being one of them!). Something in their DNA just can't make these two groups get along. But in the case of sports Halls of Fame, life doesn't seem to imitate art — jocks and tech geeks get along perfectly.
The hottest trends in sports Halls of Fame are digital signs, kiosks, and interactive software to organize and display the overwhelming amount of sports information available.
Baseball Hall of Fame
From the exhibits to the devices employees use to run operations, the Baseball Hall of Fame is taking tech to a new level. The Cooperstown landmark uses digital signs and interactive kiosks to give visitors a customized experience, no matter what they're interested in.
The Baseball Hall of Fame has also started digitizing three-dimensional objects like documents and historic items to give visitors a hands-on experience, even if the physical item itself isn't in the museum.
College Football Hall of Fame
Hot on the heels of the Baseball Hall of Fame's tech success is the hall of fame for America's #2 pastime: college football. You won't see any plaques or busts in the College Football Hall of Fame — you'll see movable touch screens instead. This Atlanta hot spot also incorporates RFID technology. Each visitor who enters selects their favorite team, and interactive video walls and other elements throughout the Hall are customized to reflect their preferences.
University of Massachusetts
At the UMass Football Hall of Fame, visitors use an interactive exhibit to explore the university's 130-year-old football program. Kiosks and digital signs show visitors detailed historical information, current data and statistics, and engaging information on players, coaches, bands, mascots, and more. The digital directories allow every visitor using the kiosk to easily find something of personal interest through use of the touch screen software.
Stevenson University (Read more!)
The Stevenson University Mustangs were inspired by the All-Sports Museum at my alma mater, Penn State University (Read more!), and wanted to use the same interactive kiosks as well as video wall technology to celebrate their own program. Visitors of the Stevenson Hall of Fame use the touch screen kiosk and ultra-high definition video walls to learn all about the students and staff of the Athletics Program. Livewire's eConcierge Content Management System makes it easy for school personnel to update and change the information on a dime — and since sports are always changing and evolving, this ensures the most up-to-date information available.
Ultimately, this technology provides so much more than could ever be inscribed on a plaque in traditional Halls of Fame. Why share a small amount of information with plaques, busts, and photos, when you can share a limitless amount with kiosks, video walls, digital directories, and a content management system?
Click Here to learn More about our Digital Trophy Cases and Sports Hall of Fame kiosks