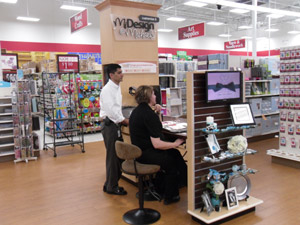 When you serve an exploding market like the one Michaels does—the arts and crafts hobby genre—you need to display every kind of product your customers come seeking. This conflicted with their limited in-store display areas. As we analyzed this client's issues, we found a way to satisfy their customers while expanding display options. How can you help your client meet conflicting goals?
Try this proven approach.
Unpack the client's real goals. Not only did Michaels need to find a way to display more variety within merchandise lines on shelves that were already filled, they had three additional objectives:
Launching 2 new product lines
Engaging customers so they participate in more events and classes
Driving customers to their website
As the scrapbook and invitation market continued to soar, Michael's was introducing its own line of scrapbooking supplies as well as a custom invitation service. Rather than providing actual access to every piece of paper involved, they wanted a way customers could see everything they offered without allotting actual footage to each offering.
They also wanted to find new ways to publicize and increase participation in their in-store classes and events. At the same time, they wanted to move more orders online and familiarize their customers with their online presence.
Look for new ways to satisfy the customer experience. By studying how customers currently accessed Michaels' products, it was clear they wanted to be able 1) touch and feel many items and 2) browse every available item. We provided virtual access to all of their products through secure workstations located throughout the store. This meant Michaels didn't have to stock every item, yet customers could see everything the store offered. Customers gained inspiration from sample projects online and could still physically see and touch many materials in the store.
Get the word out.
We helped Michaels introduce its new invitations and scrapbooking website through the kiosks. These workstations were secure, allowing only the desired Internet activity. This interface helped customers get accustomed to going to michaels.com as well as the new scrapbooking and invitation websites, as well as learn about in-store and online specials.
We supplied digital signage that let customers know about upcoming classes and children's events. These were also helpful in publicizing sales and new products and directed customers to the kiosks.
Increase sales. Michaels reported a higher dollar volume per transaction from stores implementing the workstations and digital signs. Migrating customers to the website meant our client could observe customer activity as well as collect customer information and email addresses, driving future sales.
The kiosks helped customers get what they wanted by augmenting the available square footage of the stores and allowed Michaels to utilize display areas efficiently for sales. Digital signage within Michaels was also a natural fit, as is the case in most retail environments.  Michaels is a destination retail location for teachers, parents, marketers and many others involved in creative projects.  The displays are a great way to communicate quickly and dynamically with the high volume of customers entering the store daily.
If your clients' goals are complex or conflicting, we can help with creative new ways to deliver what their customers actually need and increase their sales at the same time. Contact us today and transform your clients' solutions into the kind of customer service that will win you loyalty for life.