Meet the Client
Foxwoods Resort Casino, the largest casino in the world with over 340,000 sq ft of gaming space, serves more than 40,000 guests per day. The casino has 380+ gaming tables and over 7,400 slot machines, as well as a bingo room and keno parlor. Foxwoods has 1,416 hotel rooms and a two story arcade for children and teens.

The Challenge
Foxwoods' existing wooden kiosks were becoming dated and provided limited functionality. The Casino's Promotions group was looking to update the hardware to a more modern design while adding new functionality for patrons of their very popular Wampum Rewards Program. Previously, patrons would need to visit customer service desks to perform functions such as checking point balances and redeeming points for promotional rewards. Patrons could spend a significant amount of time in line waiting to perform these types of transactions. Foxwoods' desire was to make these services more readily available via the self-service kiosks.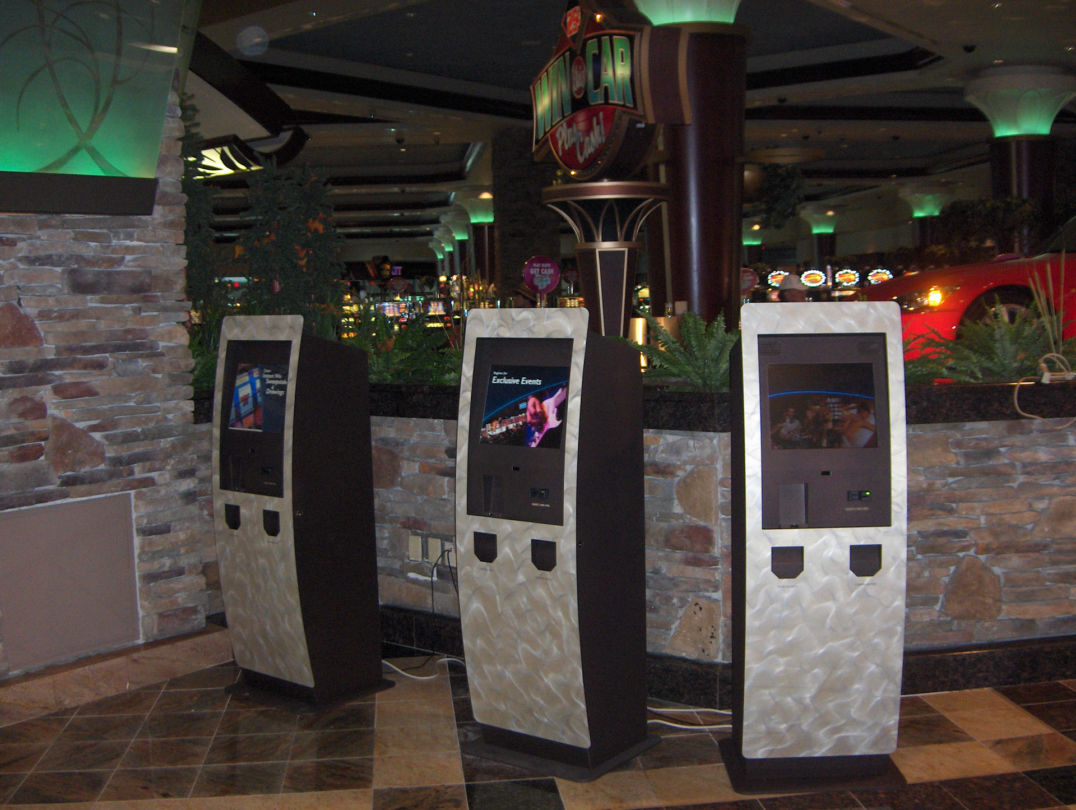 Updated Kiosks
Rewards Program
Decreased Wait time for Customers
The Solution
Livewire was engaged to develop a kiosk software solution that integrated the Wampum Rewards Program with Foxwoods' Casino Management System (CAMS) and Slot Data System and provide self service functionality that would deliver improved customer service, while adding flexibility and efficiency to management of the system.
Livewire's Enterprise Server platform andeConcierge® add-in provided the foundation for the solution, allowing the separation of application and content management. Previously, new promotions would need to be integrated directly into kiosk applications via Foxwoods' Information Technology staff. Livewire extended its web-based administration dashboard to allow promotional sweepstakes and drawings to be created and deployed throughout the Casino by Promotions personnel. This resulted in significant savings in time and cost of introducing new promotions while eliminating the risk and effort of monthly application updates as previously performed.
The kiosk application is based on Microsoft's .NET technology utilizing a multi-tiered architecture. The implementation uses background AJAX calls to a middleware web service that Livewire created to provide the connection to Foxwoods' CAMS backend. A video management system keeps the user interface dynamic and interactive by displaying different movies depending on the promotions configuration and responses returned by CAMS.
The kiosk solution is deployed on 70 kiosks throughout the property and allows visitors to view resort and casino amenities. Wampum Rewards patrons may also swipe their cards to view point balances, enter sweepstakes, sign up for events and obtain personalized rewards in the form of coupons and bonus slot tickets. In addition, secondary digital signage monitors mounted on the kiosks above the touch screen interfaces continuously display advertising and other casino information such as drawing winners and jackpot payouts.