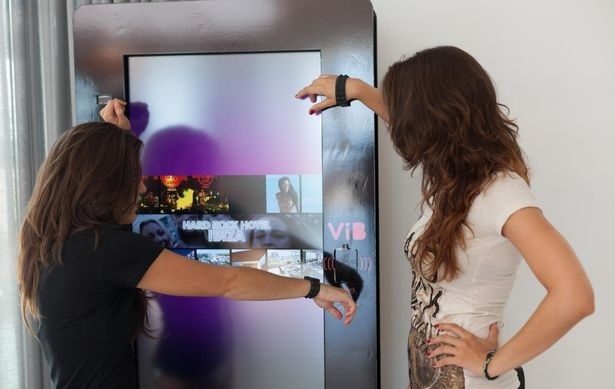 If you've watched the news or surfed the web over the last few months, you're probably familiar with the latest consumer tech advancements like Google Glass and Apple Pay.
But you probably haven't heard about the latest wearable tech wrapping itself around the hotel industry: bracelets and glasses. [TWEET THIS]
Disney's gotten a lot of buzz for its MagicBands, but they're not the only hospitality brand incorporating wearable tech into their guest experience.
Keys & Wallet Optional
At the Ushuaïa Ibiza Beach Hotel and the new Hard Rock Hotel Ibiza, guests can leave their cares and their wallets at home. The hotels offer guests VIBs (Very Important Bracelets) with RFID tags that can be scanned to unlock their rooms, pay for food and services, and skip to the front of lines.
This isn't the Ushuaïa's first time at the wearable tech rodeo. In 2012, they started using guests' fingertips (yep, fingertips) to accept payments. They also ran a social campaign that allowed guests to craft Facebook updates using RFID bracelets, increasing customer engagement.
Crystal Ball Glasses
There has been a lot of buzz recently about incorporating Google Glass into hotel reception areas.
Google Glass is the hotel equivalent of having a crystal ball, telling you every detail about guests. [TWEET THIS]
Being able to immediately recognize someone approaching the front desk would be extremely helpful for concierges, allowing them to provide quicker and more personalized service. The options for tailoring the experience and building omni-channel networks are pretty limitless when you consider all the ways this interactive wearable tech can be incorporated.
Optimizing Guest Rest
There's nothing worse than tossing and turning during a hotel stay. But tech makes that a thing of the past. [TWEET THIS]
At least at Westin Hotels. It offered guests trials of the Lark Up Sleep Monitor, Silent Alarm Clock, and Personal Sleep Coach to help optimize guests' rest. The gadgets were designed to help guests measure their sleep patterns, wake them up sans noise (and without disturbing a partner), and understand and improve their sleep cycles. Getting a better night's sleep than you do at home? Now that's cool.
Tech or Fun?
While the wearable tech at these hotels certainly serves a purpose, it also has a sense of fun in there too.
Hotels have to walk a thin line between form and function, purpose and pizzazz, tech and talking points. [TWEET THIS]
And what's the latest tech without a sense of fun? This is something Livewire Digital knows a thing or two about. We've worked with many hotels to incorporate kiosk and virtual concierge technology, but projects like the T-Mobile basketball promotion kiosk (Read more!) inject an element of fun too. We'll see a hint of whimsy in future hotel tech too, I bet.
Have you seen this kind of wearable tech in your travels? I'd love to hear about what you're seeing and experiencing while you're on the road.