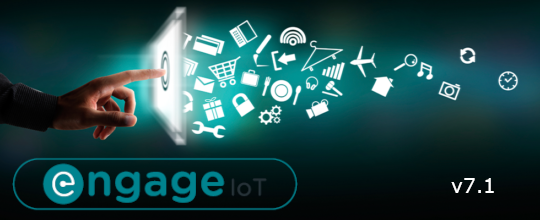 Engage IoT Software Release 7.1 is now available to the general public.  The Engage IoT platform provides comprehensive monitoring and management of kiosks, digital signs, and other IoT devices.
This version includes the following enhancements along with bug fixes:
Engage IoT Server
Commerce
Livewire's Commerce Engine has been migrated to its Engage IoT system.  The Commerce Engine provides products, catalogs of products, pricing schedules, transaction processing and reporting, and the means to accept all types of payments including cash, check, and credit card.
Vehicle Management
This latest release now combines the ability to manage registration renewals and other types of fees associated with planes, autos, boats and more.
Day-part scheduling for late fees has been added.
Theme editing has been added to allow for full customization of the customer-facing kiosk screens.
Digital Trophy Case
Digital Trophy Case is now fully integrated into the Engage IoT Single-Sign-On environment.  Enhancements continue to be added to DTC, with v7.1 including improved media management, import functionality, and roster assignments.  Theme editing allows for full customization of customer-facing screens.
Engage IoT Client
App Manager
Security has been enhanced for all web APIs, and device fingerprint registration
Device Manager
Interfaces have been added for the following devices:

Ingenico Lane-series of Payment Terminal with FreedomPay
Ingenico ICT250 Payment Terminal with Global Payments
PDI CRT571 RFID Card Dispenser
Numato I/O Board
MEI BNR
ACS NFC Reader
Minuteman UPS
SeekScan Temperature Sensor
Epson TM Series Receipt Printers
Desko IDentyChrom Passport Reader
Gill Maximet Weather Station
PDI PageScan Document Scanner
Zebra Barcode Scanner
Eyelock Iris Scanner
Cassia X1000 Bluetooth Router
AccuEnergy Power Meter
Pertech 6100 Check Reader