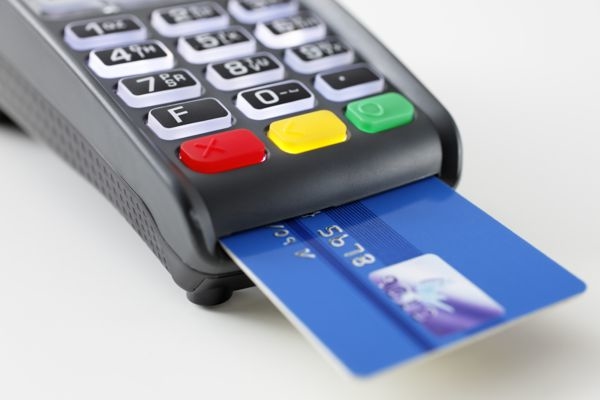 The metric system. Warm beer. A crazy obsession with soccer. Impossibly tiny male bathing suits. There are some things that Europeans love and we as Americans will just never understand. But whether we understand them or not, restaurants and other retail stores are soon going to have to get on board with another European trend — EMV (Europay Mastercard Visa), or chip-and-pin cards.
EMV
In the US, we're used to the magnetic stripe style of credit and debit cards. But we're actually one of the last countries to still use this type of card — Europe along with many others have switched to the chip-and-pin style. You've probably seen commercials for this type of card, but few people are actually using this technology right now.
Why are EMV cards worth paying attention to? Well, for one thing, they're safer. [TWEET THIS] Swipe cards are easier to hack, and since the US is one of the last countries still using them, we've seen a surge in security breaches from hackers in recent years. Additionally, all retailers will have to start accepting chip-and-pin cards in October 2015 and have EMV-compliant terminals available. This initiative will cost a total of $6B, most of which will be paid by the retail industry. And it's all because of PCI 3.0.
What is PCI 3.0?
PCI stands for Payment Card Industry and PCI 3.0 is the latest set of standards that merchants must adhere to. PCI standards help ensure financial data security — aka keeping your credit card data in your wallet where it belongs. [TWEET THIS]
PCI Compliance makes sure that businesses that deal with credit card and payment data are taking the steps to protect the financial data of their customers.
POS Record Keeping
Because the majority of security breaches happen through POS malware and skimming, PCI 3.0 requires periodic testing of retailers' systems. Retail stores will need to keep a list of their machines, including make and model, serial number, location of device, and unique identifiers. This doesn't just apply to cash registers; it includes all self-service payment machines and payment kiosks too.
Something for retailers to pay attention to in their POS systems is Point-to-Point Encryption, or P2PE. This is a process that encrypts customer credit card data before it even hits internal storage systems, so the processors never save customers' actual financial information. The cost for card readers is higher for P2PE, but because it encrypts the data entirely from device to processor, the merchant's liability is significantly reduced.
PCI 3.0 does put a bit of a burden on restaurants and retail stores, but it's a necessary burden. [TWEET THIS] By keeping customer data safe, retailers will ensure customers feel secure and comfortable making purchases — which will keep the retail industry growing for years to come.
[rockthemes_divider type="center"]