Version 3.0 Includes Enhancements to Interactive Sports Management
York, PA – April 13, 2015 – Livewire Digital, which has offices in York, PA, Denver, CO, and Gujarat, India, announces the release of Version 3.0 of its integrated marketing platform for digital signage, kiosk, and mobile applications that makes interactions with consumers more customized than ever. The eConcierge® Content Management System combines marketing and IT to connect, engage, and influence the intended audience, thus creating more relevant consumer experiences.
The release of eConcierge® CMS Version 3.0 expands on the continuing strategy to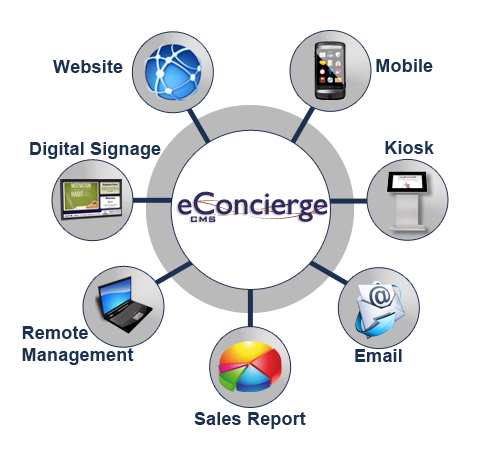 offer brands a complete, customizable omni-channel platform to manage customer engagement across all digital media. This most recent release includes enhancements focused on ease-of-use of Livewire's digital signage Presentation Builder and Management functionality. eConcierge's core data management features for venue directories, people directories, and product catalogs have all been improved with better integration between the various components and easier management of multi-language support.
Version 3.0 also includes the latest version of Livewire's Sports Management software add-in. This suite of features simplifies the efforts to deploy interactive kiosks and digital signs used to display university, college, and professional sports history. The Sports Management database holds information regarding all sports, seasons, games, teams, players, and various achievements garnered by teams and individual players. Recently added video wall integration also provides the ability to wow guests when browsing media associated with the teams and players. Livewire's Sports Management is designed to handle all sizes of implementations from small private schools such as Stevenson University to very large institutions like Penn State.
Creating an omni-channel strategy requires significant planning, a smart digital strategy, and strong execution. Awareness, consistency, and tracking are key components of this type of strategy. Livewire Digital's eConcierge® Content Management System offers the capability to process customer transactions, capture consumer data with seamless execution and provides the opportunity to automate future conversations that are customized to a consumer. David McCracken, President and CEO, shares, "Using an integrated transaction-based marketing solution helps differentiate your company from your competitors because it allows you to have meaningful interactions with your customers throughout their customer cycle. Our platform gives companies the ability to deliver transactional self-service solutions to the market faster while also extending customer engagement beyond the initial point of interaction which in turn strengthens a brand, increases profits, and so much more."
Businesses or marketing agencies interested in learning more about Livewire Digital's eConcierge® CMS should call 717-718-1241 or visit https://livewiredigital.com/contact-us to speak with one of our Interactive Specialists.