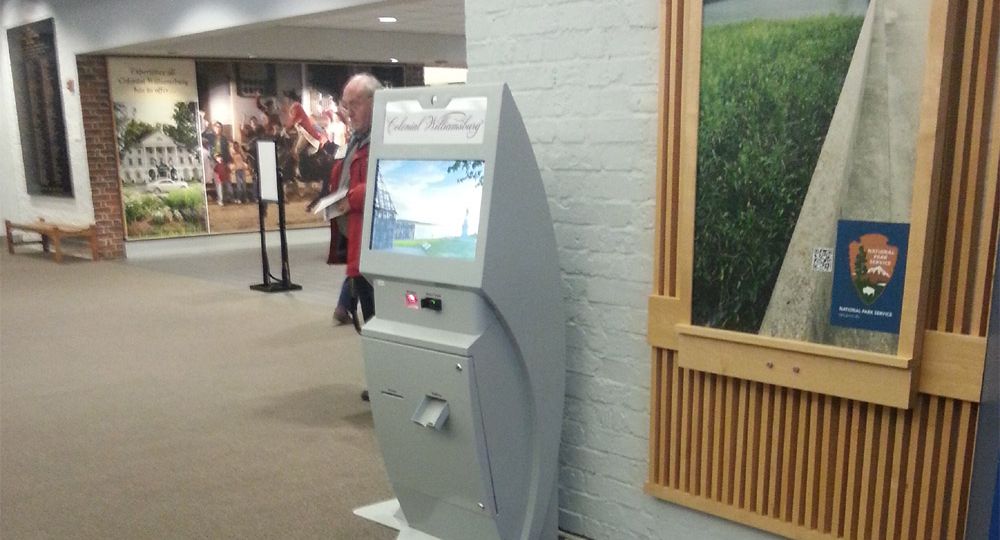 August 12, 2015 – YORK, PA.  Called "The Revolutionary City," Colonial Williamsburg is the largest living history museum in the United States.  The restored 18th Century capital city of Williamsburg Virginia includes live action, theatrical performances, historical buildings, and nearby resorts, sports clubs, and a water park.  With continuing increases in visitor attendance, Colonial Williamsburg's traditional ticket windows were having trouble keeping up with the pace of the city's ever-changing schedule.  Different buildings and attractions were open at different times, which made keeping track of things difficult.  They wanted to improve customer service by offering a self-service solution to purchase tickets and provide information that was quick and easy…and didn't take away from the traditional experience.
So when Colonial Williamsburg wanted to incorporate state-of-the-art ticketing technology, they had to proceed with caution.  From the actors wearing colonial garb, to the functioning blacksmith workshops, to the horse and carriage rides, authenticity is the backbone of Colonial Williamsburg.  No technology is even allowed inside the gates.  They called on Livewire Digital in York, PA to assist.
Colonial Williamsburg already had been using Livewire's technology… virtual eConcierge tourist center kiosks installed in 2011.  Colonial Williamsburg liked these kiosks and wanted to expand their capabilities to add ticketing functionality.  In March, they installed ticketing kiosks around the outside of Colonial Williamsburg (no technology inside, remember!) and in the local Visitor Center.  The interactive kiosks allow guests to buy tickets right at the gates or to purchase vouchers online and redeem them at the kiosk.
"Technology for technology's sake wasn't an option at Colonial Williamsburg," said David McCracken, Livewire Digital's President and CEO.  "The solution would incorporate cutting-edge technology, but it also simply needed it to work.  It was important not to take away from the overall feel and flavor of the attraction."