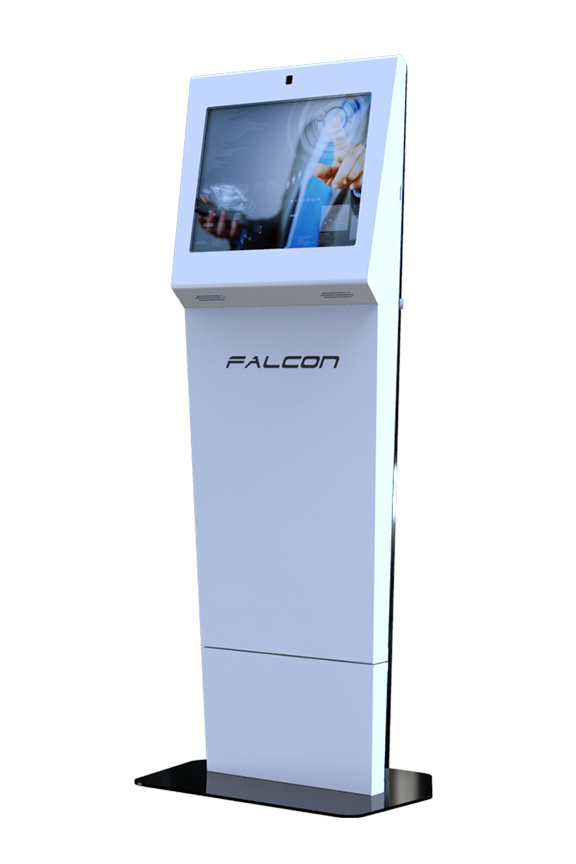 The Falcon is an elegant, freestanding design with a 19" LCD touch screen and standard front-service access. The Falcon is an excellent choice for applications in many industries, such as hospitality, government, human resources, research, education and more. It is a vey cost effective solution for those with a limited budget.
We find these units in use for Human Resources kiosks, check-in kiosks, education application kiosks and retail scanning kiosks.
Industrial PC Intel Celeron, i3 or i7 processors
Touch Screen
Amplified Speakers
Credit Card Reader/Smartcard Reader/RFDI reader
Chip and Pin EMV Payment Device
Industrial Kiosk Keyboard with Trackball with an additional front tray
Fingerprint Scanner
Driver License Scanner
WiFi or Cellular Connectivity
Barcode Scanner & Imager
Hi-definition Web Camera
Privacy Filter
Receipt Printer
Check Scanner
Headphone Input Jack
Pin Pad with an additional front tray
Signature Pad with an additional front tray
Microphone/Phone System
Proximity Detector
Components are but not limited to list above. Contact us for additional Requirement
This kiosk comes in standard colors with extremely durable, attractive and eco-friendly powder coat finishes.